Decomposition Diagrams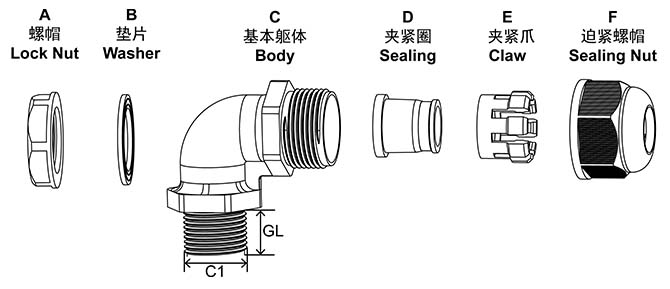 Technical Data sheet
Nylon Elbow Cable Gland (A-type)
Metric
Thread
Part No.
Cable Range
φ(mm)
Thread O.D
C1(mm)
Thread Length
GL(mm)
Spanner Size
A/F(mm)
Std.pkg
(pcs/bag)
M16*1.5
MGA16-E-06
4-7
16
15
22/22
50
MGA16-E-08
5-8
16
15
22/22
50
MGA16-E-10
6-10
16
15
22/22
50
M20*1.5
MGA20-E-11
6-11
20
15
27/27
50
MGA20-E-14
8-14
20
15
27/27
50
M25*1.5
MGA25-E-16
12-16
25
15
33/39
50
MGA25-E-18
14-18
25
15
33/39
50
M32*1.5
MGA32-E-22
16-22
32
15
41/45
20
MGA32-E-25
18-25
32
15
41/45
20
M40*1.5
MGA40-E-26
20-26
40
20
50/55
12
MGA40-E-31
23-31
40
20
50/55
12

PG

Thread
Part No.
Cable Range
φ(mm)
Thread O.D
C1(mm)
Thread Length
GL(mm)
Spanner Size
A/F(mm)
Std.pkg
(pcs/bag)
PG16
PGA16-E-10
6-10
22.5
12
30/27
50
PGA16-E-14
8-14
22.5
12
30/27
50

G

Thread
Part No.
Cable Range
φ(mm)
Thread O.D
C1(mm)
Thread Length
GL(mm)
Spanner Size
A/F(mm)
Std.pkg
(pcs/bag)
G(PF)1/2
G(PF)1/2-E-10
6-10
20.955
12
27/27
50
G(PF)1/2-E-14
8-14
20.955
12
27/27
50
G(PF)3/4
G(PF)3/4-E-16
12-16
26.441
15
33/39
50
G(PF)3/4-E-18
14-18
26.441
15
33/39
50
G(PF)1
G(PF)1-E-22
16-22
33.249
15
42/45
50
G(PF)1-E-25
18-25
33.249
15
42/45
50
G(PF)1 1/4
G(PF)1 1/4-E-28
20-28
41.91
20
53/55
20
G(PF)1 1/4-E-32
23-32
41.91
20
53/55

20
How to choose the correct thread ?
1.First confirm the hole diameter of the mounting panel hole and chenck if it is a tapping hole.
2.Find the matching thread international standard according to the technical parameter table (Metric,PG,NPT,G) .
3.If there is no tapping hole on the mounting panel ,you can choose any type of thread .
4.Long thread type of cable gland is required by the thickness of mounting panel .
Instructions photo
FAQ
1.Question: Are they UL listed?
Answer: We have finished UL listed and raw material UL (尼龙PA66制成防火等级UL94V-2) approved .You can choose the one you want according to your requirement .
2.Question: How long is the working life of cable gland?
Answer:More than 10 years under normal environment.
3.Question: when is the lead time?
Answer: Standard goods can be shipped out within 3-7 businessdays.
4.Question: Can be accept OEM cable gland & packing?
Answer: Yes,OEM,ODM can be accepted .