Technical Parameters
Name

Metal blanking plug

Thread

Metric ,PG,NPT,G. Non-standard type can be customized .

Protection degree

can be upto IP68 while uesing with O-ring or gasket .

Working temperature

-40℃ to 100℃, instantaneous heat resistance up to 120 ℃. -20℃ to 80 ℃ in dynamic, instantaneous heat resistance up to 100℃.

Features

1.High quality brass material nickel coated with alkali resistant ,salt and acid resistant ,waterproof & dustproof .Long thread length can be costomized .
2.The reserved hole or extra holes will make the product more beautiful.

Materials

Brass nickel plated ,Nitrile butaidene rubber (NBR) or EPDM ,SI (silicone) O-ring.
Decomposition Diagrams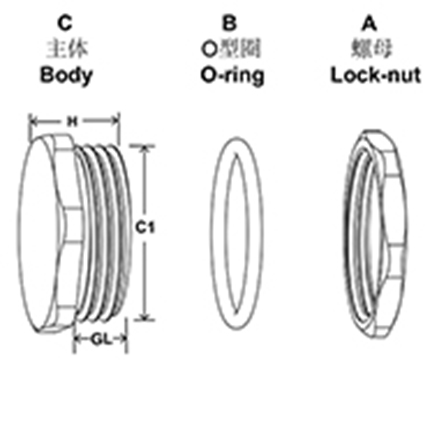 Technical Data sheet
Brass Screw Cap-Hexagon

Cat. No.
Thread O.D
C1 (mm)
Thread Length
GL (mm)
Height
H (mm)
Spanner Size
A (mm)
Std.pkg
(pcs/bag)
PJ-M12H
12
5
8
14
50
PJ-M14H
14
5
9
17
50
PJ-M16H
16
6
9
17
50
PJ-M18H
18
6
9.5
20
50
PJ-M20H
20
6.5
9.5
22
50
PJ-M22H
22
6.5
10
24
50
PJ-M24H
24
6.5
10
27
50
PJ-M25H
25
6.5
10
27
50
PJ-M30H
30
6.5
11
33
50
PJ-M32H
32
7
12
35
50
PJ-M36H
36
8
12
39
50
PJ-M40H
40
8
13
43
50
PJ-M47H
47
9
15
50
50
PJ-M50H
50
9
15
55
50
PJ-M54H
54
10
16
57
50
PJ-M60H
60
10
16
64
50
PJ-M63H
63
10
16
66
50
PJ-M72H
72
10
16
75
50
PJ-PG7H
12.5
5
8
14
50
PJ-PG9H
15.2
6
9
17
50
PJ-PG11H
18.6
6
9
20
50
PJ-PG13.5H
20.4
6.5
9.5
22
50
PJ-PG16H
22.5
6.5
9.5
24
50
PJ-PG21H
28.3
7
11
30
50
PJ-PG29H
37
8
12
39
50
PJ-PG36H
47
9
15
50
50
PJ-PG42H
54
10
16
57
50
PJ-PG48H
59.3
10
16
64
50
Decomposition Diagrams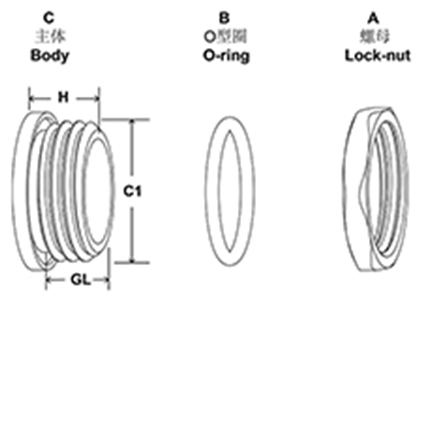 Technical Data sheet
Brass Screw Cap-Circle
Cat. No.
Thread O.D
C1(mm)
Thread Length
GL(mm)
Height
H(mm)
Spanner Size
A (mm)
Std.pkg
(pcs/bag)
PJ-M12C
12
5
8
14
50
PJ-M14C
14
5
9
17
50
PJ-M16C
16
6
9
17
50
PJ-M18C
18
6
9.5
20
50
PJ-M20C
20
6.5
9.5
22
50
PJ-M22C
22
6.5
10
24
50
PJ-M24C
24
6.5
10
27
50
PJ-M25C
25
6.5
10
27
50
PJ-M30C
30
6.5
11
33
50
PJ-M32C
32
7
12
35
50
PJ-M36C
36
8
12
39
50
PJ-M40C
40
8
13
43
50
PJ-M47C
47
9
15
50
50
PJ-M50C
50
9
15
55
50
PJ-M54C
54
10
16
57
50
PJ-M60C
60
10
16
64
50
PJ-M63C
63
10
16
66
50
PJ-M72C
72
10
16
75
50
PJ-PG7C
12.5
5
8
14
50
PJ-PG9C
15.2
6
9
17
50
PJ-PG11C
18.6
6
9
20
50
PJ-PG13.5C
20.4
6.5
9.5
22
50
PJ-PG16C
22.5
6.5
9.5
24
50
PJ-PG21C
28.3
7
11
30
50
PJ-PG29C
37
8
12
39
50
PJ-PG36C
47
9
15
50
50
PJ-PG42C
54
10
16
57
50
PJ-PG48C
59.3
10
16
64
50