What Should be Considered Before Buy a PV DC Disconnect Switch?
Publish Time:
Author: Site Editor
In a PV installation, the DC disconnect switch is like an airbag in a car. The IEC 60364-7-712 standard requires the use of PV DC disconnect switches between the PV array and the inverter. Slocable DC disconnect switches are specifically designed to disconnect DC/AC inverters from solar panel arrays. We offer PV disconnect switches for voltages up to 1500 V DC. They can be used to create independent switching points as required by VDE 6012, for example, to allow safe disconnection of defective inverters. All DC switch disconnector switches on two poles and are suitable for unearthed systems.
The housing of the PV disconnect switch is ready for installation and provides an operating current of 30 A at 1000 V/1500 V DC. Available in two and four strings as well as the two most common connector types for the connection. MC4 or metric cable glands allow for smooth integration into different system concepts. The DC disconnect switch enclosure has a protection class IP66 and is therefore ideally suited for outdoor installation. The locking function provides protection during service and maintenance. The pressure compensation element prevents condensation from collecting and thus prevents failures due to lightning.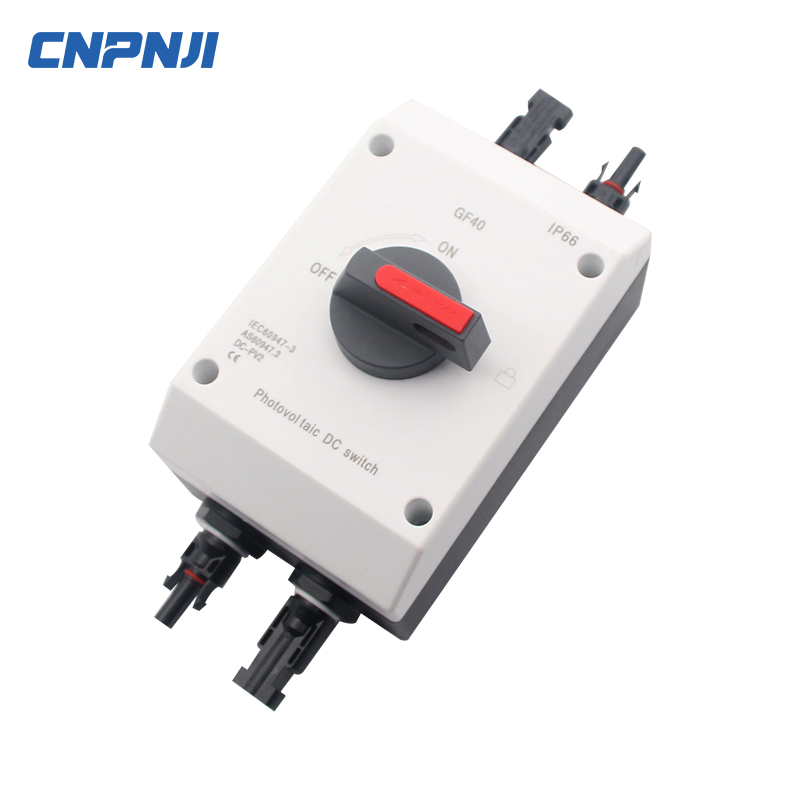 What Should be Considered Before Buy a PV Disconnect Switch?
1. What type do you need?
You need to consider the type of PV disconnect switch required, for example to understand your power requirements. Slocable has disconnect switches ranging from DC 1000V to 1500V. If you want a customized solution, we can also provide PV disconnect switches for 600V, 800V, 1000V, 1200V or 1500V.
2. Voltage and Current
If you want to install a DC disconnect switch, you must size its contacts to ensure that it can accommodate the power transmitted through its grid.
If you need higher currents, you will need more substantial contacts to support them to avoid overheating of the electrical system. Our Slocable PV disconnect switches range from 1000V, 1200V to 1500 and are rated at 32A and 55A.
3. IEC and AS certificates
Another thing to consider is knowing the IEC and AS certificates. If a DC disconnect switch manufacturer has these certificates, it means that the company is following international guidelines when manufacturing PV DC disconnect switch products.
For example, in the first part of EIC 60204-1:2016, the manufacturer is required to provide manually operated disconnect switches for each main power source being installed along with specific design parameters.
4. Installation method
You will also need to consider the preferred location for mounting the DC disconnect switch and the mounting style that is appropriate for your application. The most common style is a four-hole mount, constructed in a square pattern with four screw holes in each corner. This style is ideal if you intend to mount the switch on a flat surface, as it allows the switch to be as flush as possible.
Features of the Slocable PV DC disconnect switch:
1. Highly reliable knife edge contacts and long arc cooling chamber ensure safe isolation of DC voltage.
2. Increase security with Slocable's patented "Security Lock" feature.
3. The Slocable PV disconnect switch series is available in 2 to 8 pole versions and in a variety of mounting and handle configurations for most OEM or field installation applications.
These PV switches have been tested by inspectors and are UL508i, TUV (60947-1 & 60947-3), CE and CCC certified.
Slocable also offers other solar PV accessories, including Solar MC4 connectors, MC4 fuse holders, photovoltaic junction boxes and DC surge protectors.